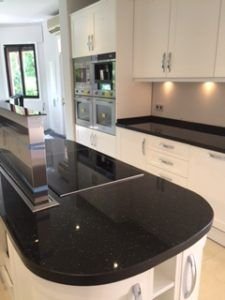 Homeowners are renovating their kitchens to create a 'super' kitchen according to the 2016 Houzz Kitchen Trends Survey (http://www.houzz.co.uk) These uber modern super kitchens are multi-functional and include features and functions traditionally associated with other rooms in the house. This trend towards interior 'fusion' is dramatically blurring the lines between our kitchens and other living spaces. Somewhere to relax in after work.....when did that happen? Just where does the kitchen end and the rest of the house begin?
Multi-purpose Maximized
The Houzz survey of UK homeowners found that these 'super' kitchens go way beyond simply cooking with 69% using the space for dining, and nearly half for entertaining (48%) and socializing (44%). Two thirds of homeowners said that they spent more than 3 hours a day in their kitchens.  32% said that they use their kitchen spaces for working or doing homework.
"The modern 'super kitchen' supports family, friends and work and does it in style"
said Nino Sitchinava, principal economist at Houzz.
Functional Integration
Homeowners want a custom-designed kitchen that integrates with the rest of the house. BUT functionality remains top of the wish-list - things need to be easy to store and find. After all a super' kitchen needs 'super storage'. Pantry cupboards with clever interiors, walk-in pantries, boxes, baskets, trolleys and trugs are all storage aspirations. Technology has seeped into every area of our lives including the kitchen. Hand-picked, smart appliances are our 'crave-fors' but we don't always want them visible. Hide them behind cabinet doors and the kitchen transforms seamlessly into the rest of the house.
Open Concept Rules
Open plan kitchens are practical and good to look at. The traditional 'U' shape design remains a favourite but the 'L' shape lends itself to open living. A central island, breakfast bar or dining table as the focal point ensure that you and your kitchen remain at the very heart of your home, perfect for entertaining while cooking. Cooks no longer have to feel shut off from the action, cooking is cool and the action can happen all around them.  Creating culinary art is something you can look forward to. BUT be prepared to share that Christmas sherry!
Motivation
The top motivation for kitchen projects is to customize or 'make-it-your-own' a recently bought home. Other triggers can be a having a kitchen that is more than 10 years old or having a kitchen that you simply can't stand! Whatever your reasons for renovating there are always  solutions to suit your budget and taste. Custom-made 'super' kitchens aren't cheap. They come with varying price points depending on what you want. The good news is that there are cost-effective tweaks to be made by clever designers.
Keep It Timeless
Neutral colour schemes have led the way in home design for several years. Shades of white, beige and grey are top classic choices and flow from one room to the next.
Super Summary
Our kitchens are no longer strictly for preparing food. Other non/cooking activities have migrated into them and family members gravitate towards them.  They're growing in size and modern designers are making the kitchen the home's central location. Busy schedules, busy lives and busy 'SUPER' kitchens.  Your kitchen is now expected to be entertaining, efficient and informative. OH! AND the delicious deliverer of  'SUPER SUPPERS', eeeeeeeasy ...... right?
Life is short, lick the bowl.